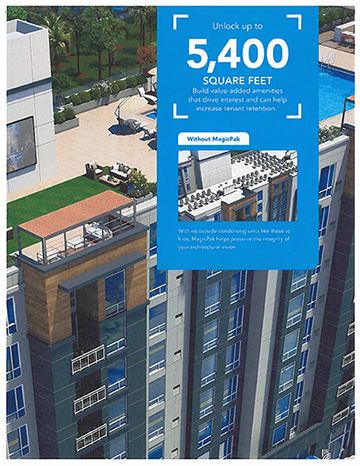 MagicPak All-in-One™ HVAC systems, are leaders in multifamily living solutions, removing the constraints of traditional split-systems with each and every 3' x 3' HVAC indoor, through-the-wall unit. This optimizes savings and speed from specification to occupancy. The forward design provides easy access to all serviceable parts and unlocks 36 sq ft of outdoor space.
The small footprint fits in any floor plan freeing up more usable space without increasing a building 's footprint. Integrated design opens up space for occupant amenities such as patios, outdoor lounges and rooftop pools.
With no outside condensing units, MagicPak™ preserves the integrity of your architectural vision. Each unit arrives pre-charged and ready to install, reducing overall labor time. A faster install leads to faster occupancy providing efficiency every step of the way and cutting weeks off your total construction schedule.
Magic Pak also delivers maximum efficiency and cost savings over the long term. With virtually no exposure to the elements, system wear is reduced. Peace of mind comes with some of the best warranty coverage in the industry.
– 5 yr. limited warranty on all parts
– Optional 20 yr. warranty on the stainless-steel heat exchanger
For building owners, MagicPak ™ makes metering and control problems completely disappear. Through-the-wall mounts flush to any outside wall and the built-in power vent eliminates the need for any chimney. Architectural louvers while designed to protect the internal components from weather and debris, also preserves the aesthetic appearance of the building and can be matched to your color specification.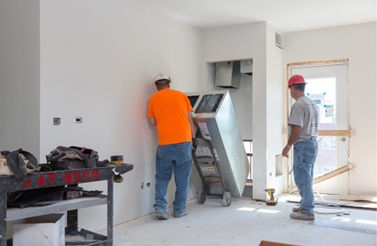 A trusted name in multi-family HVAC since 1964, MagicPak™ can save up to $500 per unit in up front costs.  The MagicPak™ system is a completely self-contained heating/cooling package designed for multi-dwelling installations.
– No outside condensing unit
– No external refrigerant lines
– No separate cooling coil
– No chimney
MagicPak™ systems allow you to remove 20 time-consuming steps from your installation. With no added assembly, it is as easy as uncrating and setting the unit in the closet. All that is left to do is provide the gas line for heating and power connection (1 phase, 230V, 60 Hz), provide a condensate drain, and provide low voltage connection to a thermostat. Cooling drain lines are included with this unit. The units fit into a wall inside each dwelling and take about an hour and a half to install, reducing labor costs.
A consistent footprint room to room, floor to floor, building to building also reduces costs and scheduling conflicts. Each MagicPak™ unit is factory assembled and tested to eliminate onsite assembly issues. Units are factory pre-wired and pre-charged which eliminates installation warranty claims. The convenience of a slide out/slide in replacement, cooling chassis design, prevents service downtime in summer for building managers and eliminates resident discomfort.
– Low installation and operating costs
– Easy to install 
Manufactured in the U.S. by Allied Air Enterprises, a Lennox International Company, MagicPak™ brings reliable comfort with individual control to residents of apartments, condominiums, student and senior housing. Each MagicPak™ unit easily connects to ductwork to deliver both heating and air conditioning to each individual room.