13
Oct
Your Code Guide to 2023 HVAC Regulatory Changes
New International Codes have been approved and went into effect Saturday October 1, 2022. The Department of Energy (DOE) periodically analyzes energy usage and shifts minimum efficiency requirements for HVAC equipment. US Energy Efficiency Standards are changing! Below you will find a quick reference code guide to help you understand and navigate these changes.
Code Guide of What You Need to Know to stay ahead of the game:
SEER2 vs. SEER: What's the Difference?
Beginning in 2023, manufacturers will be required to comply with new testing standards for efficiency ratings to represent field performance more accurately. There will be new metrics and new naming for these updated ratings: SEER2, EER2, HSPF2.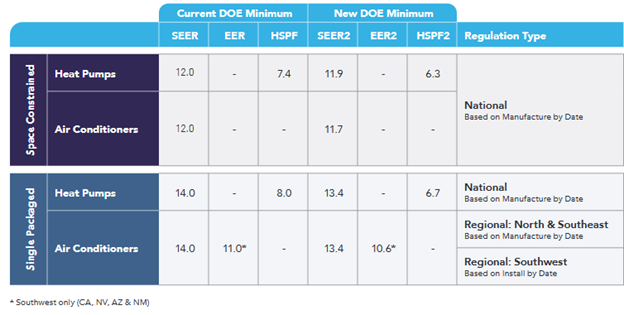 How are these Ratings Calculated?
The Increase of static pressure used during efficiency testing means SEER2 and EER2 ratings will be approximately 5% lower than current SEER and EER ratings. Additionally, HSPF2 ratings will be approximately 15% lower. This does not equate to a loss of performance.
What Does this Mean?
During this transitional period, SEER and SEER2, EER and EER2, and HSPF and HSPF2 ratings will be published for all products. Current AHRI system matches will be updated and relaunched in accordance with these new standards.
What Can You Do?
It is important to be aware of how these changes will affect you and your customers. Read the codes, learn about the relevant changes, and keep up to date as new information becomes available! Looking for all of this in one place? We will be holding a training session providing you with the research we are currently doing, to bring you the most important information needed to avoid delays. Email Hank at [email protected] for more information on the training.
If you have any code compliance related questions in the meantime feel free to email Hank or give us a call at (860)528-0081 today!