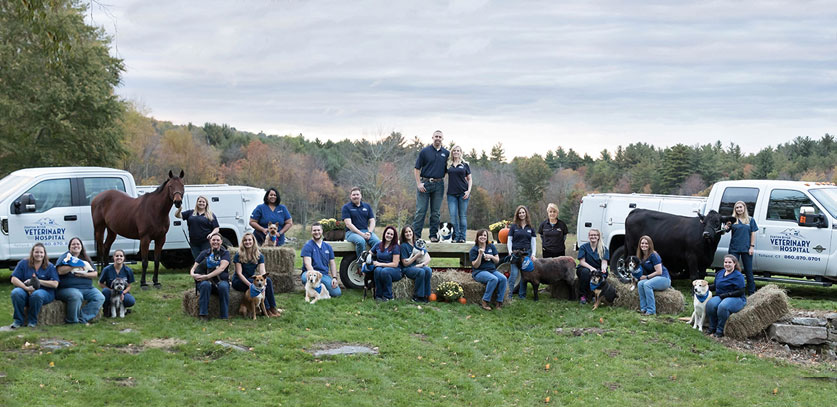 16
Dec
Veterinary Hospital Chooses Infrared Heat
Fenton River Veterinary Hospital provides care for dogs, cats, horses, farm animals and exotics in Tolland County. Opened in 2015, the facility grew quickly and has now expanded again opening a new, 2-story 7400 sq ft veterinary hospital in Stafford on Route 190 that provides common veterinary care, specialty surgeries, diagnostics and reproductive services. The doctors Morey also have equipment for off-site services.
The new facility will be heated with highly energy efficient infrared heat by Combustion Research. A two stage Omega II, 30-ft low intensity tube system will deliver 60,000 to 100,000 MBH of heat to the operating area in the rear of the facility.
Infrared heat provides fuel savings of 30 to 50% over conventional heating systems. The objective of a low intensity radiant tube system is to convert the highest percentage of gas-fuel into Infrared energy. This Infrared energy is absorbed by the building's concrete slab as well as the materials and items within the building. It is this absorbed energy that is stored and re-radiated to the interior of the building which provides the feeling of unparalleled comfort.
Combustion Research Corporation has always maintained that optimum efficiency is superior to maximum efficiency. This is important to the overall longevity of a radiant tube system. A radiant tube system that continuously produces condensate will increase thermal efficiency by as little as 2% — however the effects of the extremely corrosive condensate will eventually destroy the radiant tubing. Prudent choices must be made. Disposal of this corrosive, acidic condensate into the community's drain system is not an environmentally sound choice. Heavy walled and glass lined radiant tubing will eventually fail, corrode, and require replacement — the costs of replacement negate any savings that may have been realized.
Combustion Research believes that systems that have "built in" maintenance is counter -productive. An "Optimum" radiant tube system design incorporates the highest efficiency while maintaining low maintenance. This "Optimum" design gives the building owner the greatest overall cost savings. Omega II® have been engineered to deliver "optimum" results.
This patented feature of the Omega II® system increases the efficiency of the radiant tube. The patented Low Mass radiant tubing heats up faster, allowing optimum radiant emitter output faster than any other radiant tube systems available.
The Fenton River Veterinary Hospital mission is to provide the highest ethical medical standards while considering the physical, emotional and financial capabilities of the patient's owners. Their success has been achieved by their knowledge, love and care giving of the animals in their charge.
Likewise the choice of a highly efficient infrared heating system for their new facility, one that conserves energy, provides great indoor comfort and is very economical was a wise choice.