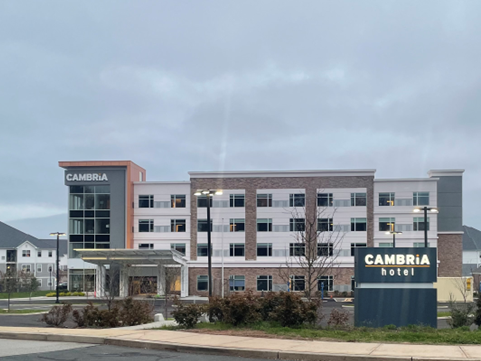 Cambria Hotel is a new 123 room, 4-story, extended stay hotel in South Windsor. Located in the popular Evergreen Walk lifestyle center, guests have easy access to the area's top attractions while enjoying the stylish accommodations at the hotel.
The hotel includes meeting room space, a fitness center, restaurant & bar and an indoor pool. It is a facility that has long been anticipated.
Reznor Make-Up-Air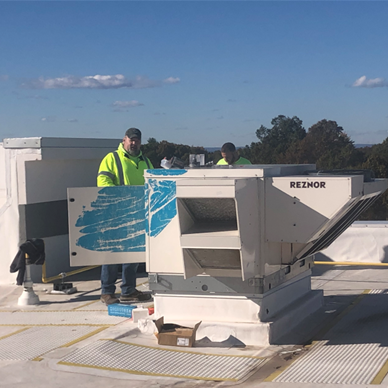 Quality is its hallmark! From the Reznor packaged, make-up-air system, that will provide outside conditioned air to the hallways – to the Concord ducted split-system units installed in many areas of the hotel, the comfort of occupants is paramount.
Reznor's YDMA in a DX design system that will provide outside air to the hallways and properly condition and ventilate them. The blower system of a YDMA unit incorporates an energy efficient design with variable speed control that balances and controls airflow as needed.
Clover Corporation personnel are factory trained and certified in the application and operation of Reznor's varied makeup air and ventilation equipment. Check out our Reznor Product Page or the Reznor Section of our blog for more information on this product and more!
Concord Split System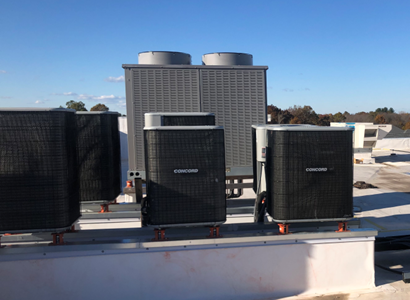 Concord™ split-system heat pumps, model 4HP-14 were used with 14 ducted fan coils and electric heaters to condition the common areas of pool, lobby, office, bar and kitchen. Inside every piece of Allied Commercial equipment, you'll find durable, time tested components and safety features including low-pressure switches to protect against loss of charge, and optional high-pressure switches to protect the compressor should pressure exceed safe levels.
Split system air conditioners with 2 stage scroll compressor or single stage with Omniguard total corrosion protection, up to 18 SEER, offer users quiet operation, corner mounted controls for ease of service, and ten year limited warranty on compressor and all parts.
Each small split unit is backed by thorough testing in lab conditions for maximum performance season after season. Each one offers solid performance with a wide range of field-installable accessories. Check out our Concord Product Page and Concord Section of our blog for more information on this product and more!
Looking for more information?
Give us a call today!