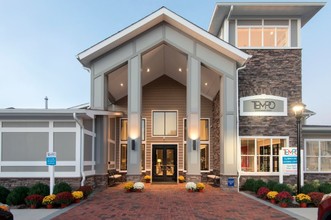 23
Dec
Tempo – Evergreen Walk
At Tempo • Evergreen Walk, residents can get the most out of life. With a stunning central location in South Windsor, apartments here at Evergreen Walk offer dynamic amenities and curated living spaces–all in a pedestrian friendly neighborhood. Enjoy life with all its accents at this beautiful community. Just a few minutes away from Glastonbury, CT, Tempo •
Evergreen Walk offers a luxurious retreat that's completely in tune with the rhythm of modern life. Visit it today for a tour.

While you're there take notice of the beautiful grounds. There are no condensing units marring the beauty of the façade because each of the 150+ apartments are heated and cooled by a Magic-Pak™ system. A thru-the wall heating/cooling unit that can be ducted to provide comfort conditioning throughout the apartment.

The packaged heating and cooling are factory assembled and each unit is tested, pre-wired and precharged reducing onsite assembly issues. The Magic Pak's™ consistent footprint, room to room, floor to floor, building to building reduces labor and trade scheduling conflicts. The unit fits into a wall cavity inside each dwelling which simplifies service and reduces maintenance costs.

Builders can save up to $500 per unit in upfront costs over the alternative split system installation. Fast plug-and-play install of the Magic-Pak™, takes only an hour and a half, reducing labor costs. The new 11EER, M-Series model meets the new Department of Energy efficiency requirement and has built-in new benefits that set the Magic-Pak™ towering over their competition:
---
Higher Efficiency • Top Supply and Return on all models • Factory installed
Float Switch • Anti-microbial Drain Pan • 20 yr. Limited Warranty on the
stainless-steel heat exchanger w/corrosion protection • Constant Torque
Blower for reduced electric consumption and quiet operation.
---
Available locally for pick-up and delivery at our warehouse in East Hartford, CT, located at 602 Tolland Street. Stop by to see a model and to pick up literature and specifications for your next multi-family installation.