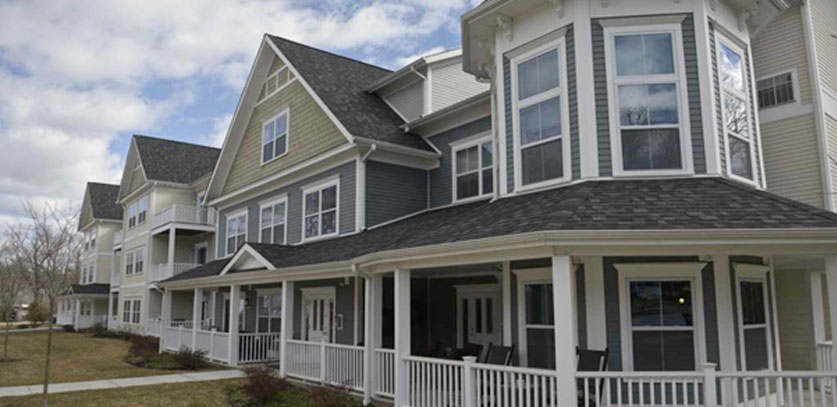 23
Dec
Revitalizing Communities with Magic-Pak™
Bethel, CT recently began a revitalization effort in its downtown area. Research into housing needs in the area demonstrated that a segment of the population wanted to live closerto services provided in-town. The first phase of the effort was to erect a 26-unit luxury apartment building located just steps from the train station. The facility, called The Grand at Bethel, was a smashing success and was quickly completely occupied.

Phase two of The Grand is already underway. A second apartment building,
located behind Dolan Plaza on Grand Street, is moving the town's plan forward by creating a downtown where people can live and take the train to work or walk to local shops and restaurants. This plan, called a transit orientated development, includes regulations that require outside amenities and 20% of the housing is to be considered affordable. An outdoor seating area with a fire pit will be included and will be large enough to accommodate the residents of the first building allowing all residents to congregate together downtown.

The Grand at Bethel II will also be constructed using Magic-Pak™ thru-the-wall, packaged, heat/cool systems that are ductable to provide space conditioning throughout each apartment. Selecting MagicPak™ saves developers time and money because the thru-the-wall design eliminates 15 installation steps and the time to perform them.

The simplified design specification of Magic-Pak™ systems eliminates chaseways, basepads, external utility connections and refrigerant lines. Consistency from floor to floor and room to room is the same
and installation time is shortened. The uniformity of the project saves on labor and scheduling conflicts as the building develops. There is a unique beauty to a Magic-Pak installation when there are no unsightly condensers marring the appearance of the exterior façade of the building.

Proven performance and ease of maintenance during the lifetime of the system are reasons for the continued popularity of the Magic-Pak™ for multi-family dwellings. They are the choice of developers and builders over split systems and water source heat pumps helping them stay on budget with their many cost saving measures. They eliminate building wide shutdowns that plague central systems. Facility maintenance personnel prefer the Magic-Pak's ease of maintenance and tenants love that they have individual control.