21
Jul
Do High Efficiency Furnaces Really Save MONEY?
Previously furnaces of the 70's, 80's and 90's were around 65% to 78% efficient. Today's equipment utilizes 98.2% of the fuel input for heat which does provide a customer savings.
Depending upon the efficiency rating of the furnace selected, there can be savings of as much as 30%, so the long-term gain will be worth the initial higher investment of the high efficiency system.
Energy Savings for Homeowners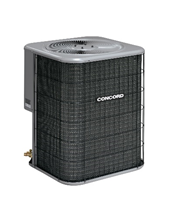 Customers upgrading their air conditioning unit to a 14 SEER system can result in up to 29% savings on monthly utility bills compared to a 10 SEER system. Pair it with a variable speed or constant torque furnace or air handler and achieve up to 16 SEER with savings up to 38%.
Versatility and Reliability of a Concord® system will also offer you a competitive edge.
• Units come pre-charged with refrigerant.
• Permanent lubricated condenser fan motor needs no annual maintenance.
• Units have a 10-year compressor and parts warranty
• Corner mounted access valves provide flexibility when replacing older units
Energy Incentives also offer customers additional savings through the Energize Connecticut program. Call us for details about applying for an incentive. We will assist you in obtaining these incentives for your customer 860-528-0081.