21
Jul
Concerned About Air Quality In Your Home This Winter?
A desirable level of a home's humidity is 30 to 60%. A typical home in New England in winter has three to four times less humidity than is required for healthy air.
It is accepted fact that many viruses spread during the winter when the air is dry. Adding humidification to the heating system can be accomplished by the installation of an Aprilaire automatic humidifier.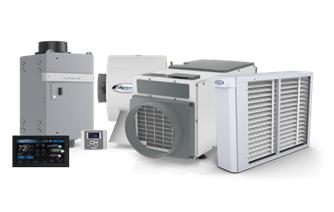 Healthy Air Here
Aprilaire believes everyone deserves Healthy Air and since 1954, with the first completely automatic humidifier, it has delivered the benefits of proper humidification with minimal maintenance to millions of Americans.
Recommended healthy indoor relative humidity is three to four times the humidity in a North American home in winter. 21st Century technology has produced the perfect solution using the speed, accuracy, and reliability of a computer to produce the right amount of humidity all the time.
Pure water vapor is introduced to add moisture to a home's dry air, one of the causes for nose, throat and skin discomfort in winter. Aprilaire delivers 50% more moisture than other humidifiers and is the reason homeowners have trusted its benefits for many years.
The humidifier can be mounted on either the supply or return plenum. When the furnace operates, negative air pressure draws heater air through the water panel evaporator, providing humidified air throughout the home.
No matter what indoor air quality issue you want to address – diluting airborne viruses, purifying your air or humidity control, Aprilaire's comprehensive whole-home product line up has the solution. Everyone deserves to breathe healthy air and Aprilaire's products perform.